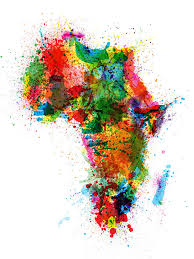 It's quite sad to read and hear some journalist sound so ignorant when they make reports about Africa. Tired of reading articles and write ups that showcase Africa to the world like a continent 80% filled with hungry people. Poor living condition, famine, epidemics and political unrest seem to be the major news about Africa. In a bid, embarking on a journey of thoughts wondering how to connect Africans to share and tell their stories themselves and how every beautiful nook and cranny of Africa can be shown to everyone in the world, the idea behind 54Africa came to life and it led to the establishment of this platform called 54Africa.
54Africa is a platform that represents a voyage that is meant to bring young, goal-oriented, skilful, enterprising and result achieving Africans together, who are willing to interact their ideas, showcase their beautiful country and share their opinions on issues concerning happenings in Africa as well as their glorious experience in different African communities.
A place for everyone to tell and share beautiful stories about their various beautiful countries ranging from culture, lifestyles, literature, business, arts, inspirations, developing economics, music and more
54Africa is open to everyone. You don't have to be a professional writer before you can share your view about anything African. Let us all show our beautiful, rich and greatly diverse continent to the world in ways and forms never seen before.
You can be part of this huge base by sending in your beautiful stories and articles you got for everyone to info@54africa.com. You can also check out our Facebook page www.facebook.com/The54africa, Instagram: the54africa and also twitter www.twitter.com/The54Africa.
It's Africa by Africans.