It was a bright and beautiful Thursday and it was *drum rolls* Wanderlust Thursday!!!!!!!!!!
But at first, I was worried about how I was to engage more than 5,000 African bloggers without making a fool of myself while at it *phew*
Little did I know what was in store for me. It was Wanderlust Thursday and the country we were wandering to was none other than the great pearl of Africa, UGANDA!
Turns out it all started well with different Ugandans contributing to the live chat. Uganda is a very beautiful country and quite a lot of experiences were shared. Some travel nomads joined the conversation late but were assured that all the tips and must-see places in Uganda would be together for them.
At this point, I really appreciate Evelyn Masaba @NoirEnBlanca for coming through. She created a massive thread about must visit places in Uganda.
Evelyn also shared the following:
You must be ready for anything while traveling in Uganda. For lazy wildlife drives, go to Kidepo, Q. Elizabeth, Murchison, L. Mburo. You will see lions, elephants, giraffes, buffalo et al. My favorite is Murchison, as it has everything from meerkat and warthog to elephants and of course, the gorgeous roaring falls.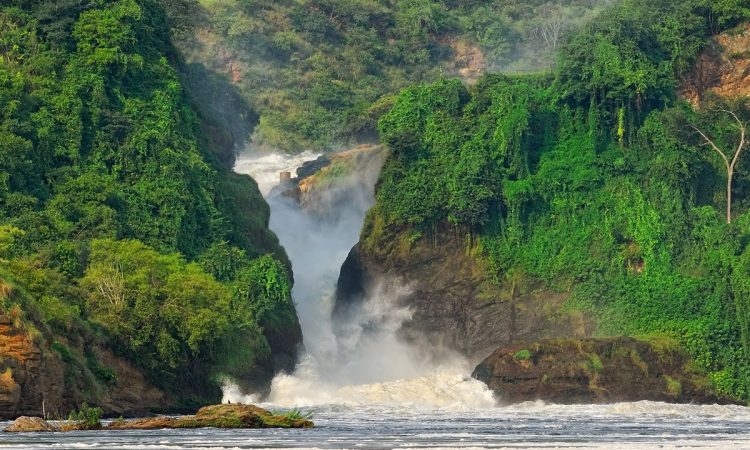 There you will find so many Elands, Zebras, Meerkats, Warthogs and whitewater bucks at the Lake Mburo Park. No elephants here though
Queen Elizabeth is the actual Queen of the parks because of the amazing wildlife, the Lions lazy up in the trees plus there are lots of buffalos.
I haven't been to Bwindi or Kidepo yet, but the former has so many chimps, gorillas whilst Kidepo has leopards and giraffes et al. For bird watching; the Mabira forest will be your favorite location and make sure you head on to the Elgon where rare bird life is spotted., hike through Rwenzori Mountains National Park and explore the largest Mahogany Forest in East Africa right in Budongo Forest Reserve.
Relax on the shores of Lake Victoria and visit the Ssese Islands. The Ssese Islands are an archipelago of eighty-four islands.
Jinja will thrill the life out of you. Go white water rafting, kayaking as well as Bungee jumping on the thundering Nile.
Mountain climbing? Uganda got you! Mountain Rwenzori is also known as mountains of the moon and the dormant volcano Mount Elgon are scale worthy.
In Kampala: pass by the Munyonyo shrines (in the photo), visit the Baha'i temple, make your way to the National Museum, Kisubi tombs.
So much culture to explore around Uganda, the tribes are colorful and have a strong heritage that you will want to soak it in. Try tasting all the food you find around Uganda too because it all comes with a story and tradition. Street food? Try Rolex, TV chicken, lusaniya
At this point, I had to ask……
'Why are we eating 'Rolex' and what's TV chicken guys?!'
I was told Rolex – is a street food/quick snack. A combination of eggs and vegetables wrapped in a chapatti…
Ever been to Soroti? It became my favorite district after Manafwa and Fort Portal. It's so sleepy and rocky. ?
Nvannungi @Nvannungi_ handled the travel tips and gave lifesaving insights and things to put in consideration while planning your travel to Uganda.
1. Time
Our people in and out of Kampala have a much-skewed view of time. It gets worse as you draw further away from town. Plan your trip with a provision for delays; that includes issues arising from random road works to bad weather, late arrival of meals, etc. If a guide who spends most of their time in districts outside Kampala says a hike will take 40 minutes, make that an hour and 20, and factor in numbers and physique or fitness of your travel party. #Travel #Uganda.
2. Weather
It's not the culture in Uganda to pack and plan travel with the weather in mind so people end up hiking with rubber sandals on rainy days. Tour guides too never think to mention the season when you make bookings so do it for you and your could-be dope vacation.
3. Travel Party
Are your people tourists, travelers, storytellers or other? Understand your travel party before letting a tour operator pursue you into certain (possibly amazing) adventures. Your people might just be happy to be driven around & not walk/hike. Luckily #Uganda offers so much to do and to see for all types of travelers. Indigenous, Bougie, etc.  #Travel #Uganda
4. Travel. See #Uganda
Whatever you fancy, you can find it. Uganda is so rich and so beautiful. Plus, you'll be wiser for it! Most importantly, learn something & tell that Ugandan story in a picture, a caption, or a blog. #KoikoiUg
Kalangala islands have White sand beaches, great stories by the locals, boat rides. It's a place away from the bustle of town noise. Gorilla highlands are rich in history, nature and you'll return so relaxed. There are about 29 islands to visit, adventure awaits you.
Image credit: JoelJemba , Raft Uganda